Biography of Julius L. Chambers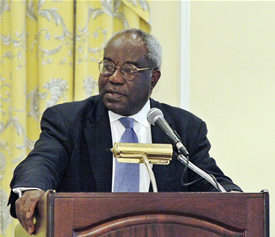 Born in 1936 and reared in a small, rural community east of Charlotte, Julius L. Chambers learned about racial discrimination growing up in North Carolina. He graduated from high school in May 1954, the very month of the United States Supreme Court's landmark ruling in Brown v. Board of Education and entered North Carolina Central University in the fall of that year.
In his senior year, Mr. Chambers served as President of the student body, graduating summa cum laude with a degree in history. He then earned a master's degree in history at the University of Michigan. In 1959, he was admitted to the Law School at the University of North Carolina at Chapel Hill, which had just begun to admit African Americans under the pressure of litigation. Mr. Chambers was chosen Editor in Chief of the Law Review, thus becoming the first African American to hold this title at any historically white law school in the South. Ranking first in his class of 100 at graduation in 1962, he entered and taught at Columbia University Law School while earning a masters of law degree.
In 1963, Mr. Chambers was the first Legal Intern in an exciting new program of the NAACP Legal Defense and Educational Fund, Inc. (LDF.) This program provided promising African-American law graduates with 12 months of training in civil rights litigation and then sent them home where they would commence law practice specializing in civil rights law as "LDF cooperating attorneys." The LDF provided some initial capital and a small monthly stipend to keep these fledgling law practices afloat in their infancy.
In June 1964, Mr. Chambers opened his law practice in a coldwater walkup on East Trade Street in Charlotte. This one person law practice eventually became the first integrated law firm in North Carolina history. In its first decade, this law firm did more to influence evolving federal civil rights law than any other private law practice in the United States. Mr. Chambers and his founding partners, James E. Ferguson, II, and Adam Stein, working with lawyers of the LDF, successfully litigated civil rights cases and helped shape the contours of civil rights law by winning landmark United States Supreme Court rulings in such cases as Swann v. Charlotte Mecklenburg Board of Education (1971), (the famous school busing decision) and Griggs v. Duke Power Co. (1971) and Albemarle Paper Co. v. Moody (1974)
Considering the South's racial attitude at the time, Swann was not a popular case: Mr. Chambers saw his life threatened, his office torched and his car firebombed. Yet, he fought the case all the way to the Supreme Court and convinced the Court that busing was an acceptable tool for desegregating schools.
In 1984, Mr. Chambers left the law firm to become Director-Counsel of the NAACP Legal Defense and Educational Fund in New York City. He was the third Director-Counsel of the LDF, following Thurgood Marshall and Jack Greenberg. At the LDF, he was the Field Marshall for 24 staff attorneys and approximately 400 cooperating attorneys around the nation. He returned to North Carolina in 1993 to become Chancellor of North Carolina Central University, his alma mater. Under his leadership, the University launched a $50 million capital fundraising campaign, and established its first ten endowed chairs, including the one million dollar Charles Hamilton Houston Chair at the School of Law.
In 1995, Mr. Chambers was one of three lawyers who argued Shaw v. Hunt (argued December 5, 1995), the landmark legislative redistricting case before the Supreme Court. This case forced the Court to decide the constitutionality of two North Carolina congressional districts that were redrawn after the 1990 census according to provisions in the 1965 Voting Rights Act to ensure equitable minority representation. In the most recent ruling in this case (Hunt v. Cromartie), the Supreme Court sustained two congressional districts which enabled North Carolina to elect its first black Congressional representatives since reconstruction.
Mr. Chambers retired from his position as Chancellor of North Carolina Central University on June 30, 2001 and reentered private law practice with the firm he started in 1967 (now Ferguson, Stein, Chambers, Gresham & Sumter, P.A., 741 Kenilworth Avenue, Suite 300, Charlotte, North Carolina). He is married to Vivian Giles Chambers, two adult children, Derrick and Judy and three grandchildren.